Organic juices, smoothies, and bowls help you to remineralize yourself because they are loaded with micro and macro nutrients. Kure Bar uses only single auger, slow turning juicers. Most juice bars use commercial centrifugal juicers that destroy nutrients, but our single auger juicers extract the juice slowly for maximum nutrient retention. You will taste and feel the difference.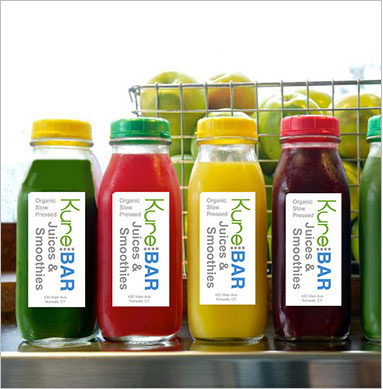 High-Nutrient Organic Juices 16oz
We use only single auger, slow turning juicers for optimum nutrient retention.
Green Giant $8.95
cucumber, celery, parsley, spinach, lemon;
antioxidant, anti-inflammatory, and anti-cancer benefits
Kale Cooler $8.95
carrot, Kale, cucumber, celery, beet, green apple, lemon;
nutrient dense, antioxidant, anti-inflammatory, and anti-cancer benefits
Karrot Apple Ginger $8.95
carrot, ginger, green apple, red apple;
antioxidant, cardiovascular benefits, and anti-cancer benefits
Sweet & Spicy $8.95
sweet potato, pear, almond milk, cinnamon, maple syrup, pinch of Himalayan salt. Served over ice!;
anti-inflammatory and blood sugar-regulating nutrients
Green Junkie $8.95
kale, spinach, romaine, cucumber, parsley, celery, lemon;
detoxification, cardiovascular support, cancer-preventive, antioxidants
Cell Renew $8.95
celery, apple, spinach, lime, ginger;
digestive tract support, soothes the nervous system
Re-Pear Me $8.95
pear, cucumber, spinach or chard, mint, turmeric, black pepper;
anti-inflammatory, anti-microbial, bone support
Make Your Own Juice $8.95
base (must pick minimum of 2) – apple, cucumber, celery, carrot
plus (must pick minimum of 2) – kale, spinach, romaine, beet, sweet potato, lime, lemon, garlic, ginger
Shots 1oz $2.50
E3Live, Wheatgrass, Ginger, Aloe or Nature's Flu Shot (ginger, garlic, honey)
Our To-Go Bottle
$.50 cents
A great option to keep your juice fresh longer if you plan to drink later in the day.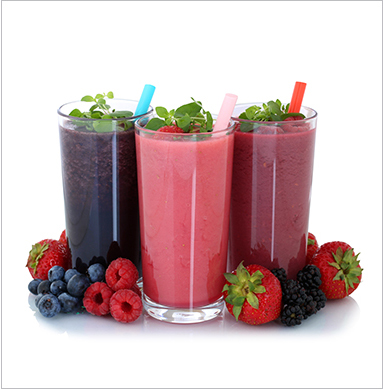 Great Tasting Superfood Smoothies 16oz
Blueberry Cinnamon Spice $7.95
almond milk, blueberry, banana, peaches, gluten free rolled oats, cinnamon, maple syrup, cashew butter, peanut butter, pinch of Himalayan salt
Rawcolate Smoothie $7.95
almond milk, banana, almond butter, raw cacao powder, raw cacao nibs, raw vegan chocolate protein powder, maple syrup, pinch of Himalayan salt
Mango Lassi $7.95
coconut milk, coconut water, mango, coconut manna, cardamom, maple syrup, lemon, pinch of Himalayan salt
Kure Berry $7.95
blueberry, strawberry, banana, coconut water, lemon
Green Ginger Mint $7.95
almond milk, pear, spinach, ginger, fresh mint, maple syrup
Green Team $7.95
coconut water, kale, spinach, romaine, celery, cucumber, lemon and your choice of fruit (peach, mango, banana, apple, berry)
Tropical Teaser $7.95
almond milk, spinach, pineapple, banana, mint, lime, pinch of Himalayan salt
Smoothie Bowls
Acai Bowl $8.99
Turn a Kure Smoothie into a Bowl $8.99
Kure Kickers
To add to your smoothie $1.50
Chia Seed, Flax Seed, Turmeric, Hemp Seed, Raw Protein Powder, Pumpkin Seed Protein, Bee Pollen, or Camu Camu


      E3Live
E3Live is 100% Aphanizomenon flos-aquae blue-green algae (AFA for short) a certified organic wild-harvested Nutrient Dense AquaBotanical™ considered by renowned health authorities to be nature's most beneficial superfood.
Physiologically, E3Live may help restore overall body/mind balance in numerous ways. Its field of action simultaneously includes the immune, endocrine, nervous, gastro-intestinal and cardio-vascular systems.
Nutritionally, E3Live provides 65 vitamins, minerals, amino acids and essential fatty acids. It is the most nutrient dense food known to mankind and a rich source of chlorophyll.  Learn more>>
Juice Cleanses
Juicing provides super nutrition and also gives the body a break from digesting heavy foods. Immediate benefits may include: increased mental clarity, diminished pains, loss of sugar cravings, increased energy levels, and a strengthened immune system. 48 hour notice for order required to prepare a juice cleanse/feast for you.
Prices subject to change without notice.
Call ahead for faster pick up. 203.857.1500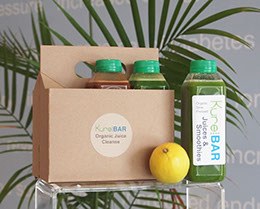 1 Day All Day Cleanse: $66.00
6 juice option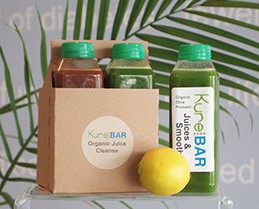 Just Juice Before Dinner:
$44.00
4 juice option
Steam Distilled Water
Here at Kure Spa, we have our own Aquanui water distillery system to provide our clients with fresh, best tasting, highest-purity water!  Moreover, since we'll add lemon to the water, you will have the best alkaline, steam-distilled water available to use to hydrate after a Vibrosaun or massage session.  So please come and help yourself to the purist, best tasting water in the neighborhood!