What It Is

Pulsed Electro-Magnetic Field Therapy (PEMF)  creates energy waves that pass through your cells. It changes the way your body manages pain and healing by stimulating cellular metabolism and increasing cellular energy levels. This promotes immediate pain relief and faster healing of injuries.
It is safe and non-invasive, and has no side effects. It can be used on any part of the body (except the head, our unit is not designed for that area).
The Benefits
Cellular metabolism is boosted
Promotes faster healing of bone and soft tissue (photo below)
Circulation is improved
Boosts levels of collagen and human growth hormone
Reduces pain and inflammation
Increases energy levels
Improves sleep quality
Balances the immune system
Relaxes muscles
For a comprehensive list of benefits, click here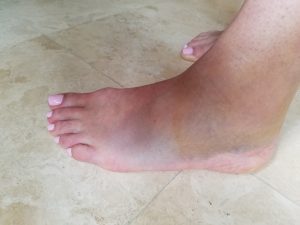 After badly rolling my foot and ankle, I applied PEMF to the area. Within 24 hours it was obvious where the treated area was. The bruising looked a week old compared to the rest of the foot. The PEMF side showed faster healing!
National Institutes of Health Studies That Show PEMF Helps With Many Conditions